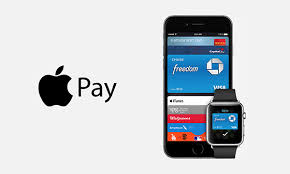 Apple introduces (from next month USA only) Apple Pay, a new mobile payment system, included in the Apple Passbook mobile wallet, backed by American Express, Visa and MasterCard and card–issuing banks that are responsible for 83% of the credit card transactions, says Apple.
Apple gets into mobile near field communication (NFC) payment with Apple Pay. The function is combined with Apple's Touch ID, with which the consumer can pay by just using his fingerprint on the smartphone. "A game changer!"
Apple announced the new features yesterday, during the presentation of the iPhone 6 and Apple Watch. For retailers especially the item about mobile payments is important. Apple enables mobile payment in 220.000 American retail locations with the smartphone payment and NFC terminals. This occurs via Apple Pay, a payment service that is built into every iPhone 6 / Apple Watch and is linked to the credit card information in the users' Apple Passbook. Payment approval will be done with the consumer's fingerprint in the Touch ID-button on the phone.
One touch pay
To give a boost to mobile purchases, Apple also made a Touch ID API available for retailers, from where developers can easily select and apply the biometric payment checkout. That enables the end-user to make a purchase with his finger on the home button of the device, to make a purchase. Store retailers need terminals containing NFC technology.
Way of shopping is changing
'Nfc in an iPhone is really a game changer. Apple has more than 500 million iTunes account holders that their credit card data be stored. It will take a while before consumers Apple Pay frequently will use, but now Apple has opened the gate, the development of mobile commerce accelerate. "" It's all about the wallet, "says Cook. "Our vision is to replace the leather wallet.
How to use Apple Pay
A consumer takes a picture of her credit card in the Apple Passbook wallet, which then asks her to authenticate with the bank that issued the card. Then Passbook stores information on the card in a safe encrypted element within the smartphone. But it does not have the actual card number or identifying information on the phone store. Instead, Apple only stores a device account number, and every time a consumer uses the card to pay via Pay Apple, Passbook generates a one-time payment song with a dynamic security code. So even if an iPhone 6 is lost or stolen, there is no need to cancel a credit card, Apple said. Moreover, iPhone users can use Find My iPhone to immediately suspend payments on their lost or stolen devices (or all the content on the phone). Apple Pay can also be used online!
https://qiqqer.com/wp-content/uploads/2014/10/apple-pay.jpg
174
290
Corine Van Drunen
http://qiqqer.com/wp-content/uploads/2018/10/logo-QiQQER-Kleur-def-1.png
Corine Van Drunen
2014-09-10 16:31:03
2014-10-25 20:10:08
Boost M-Commerce with Apple Pay!